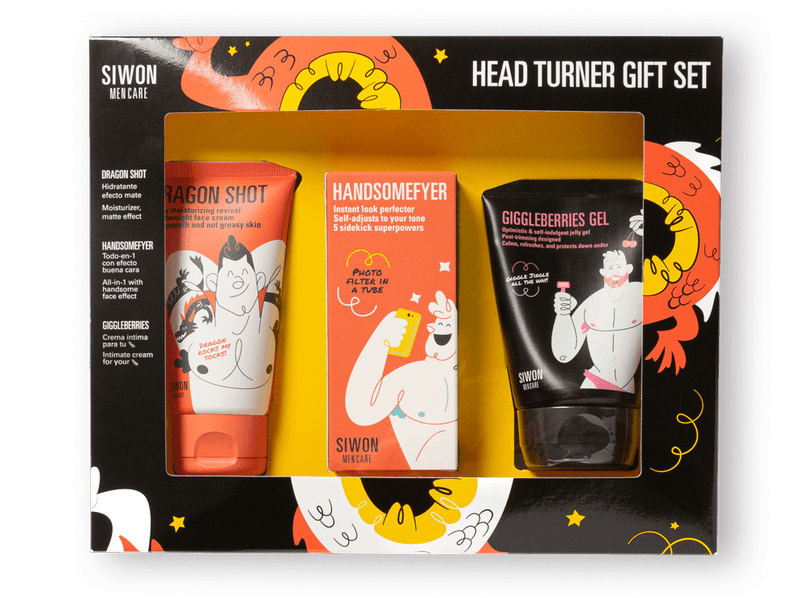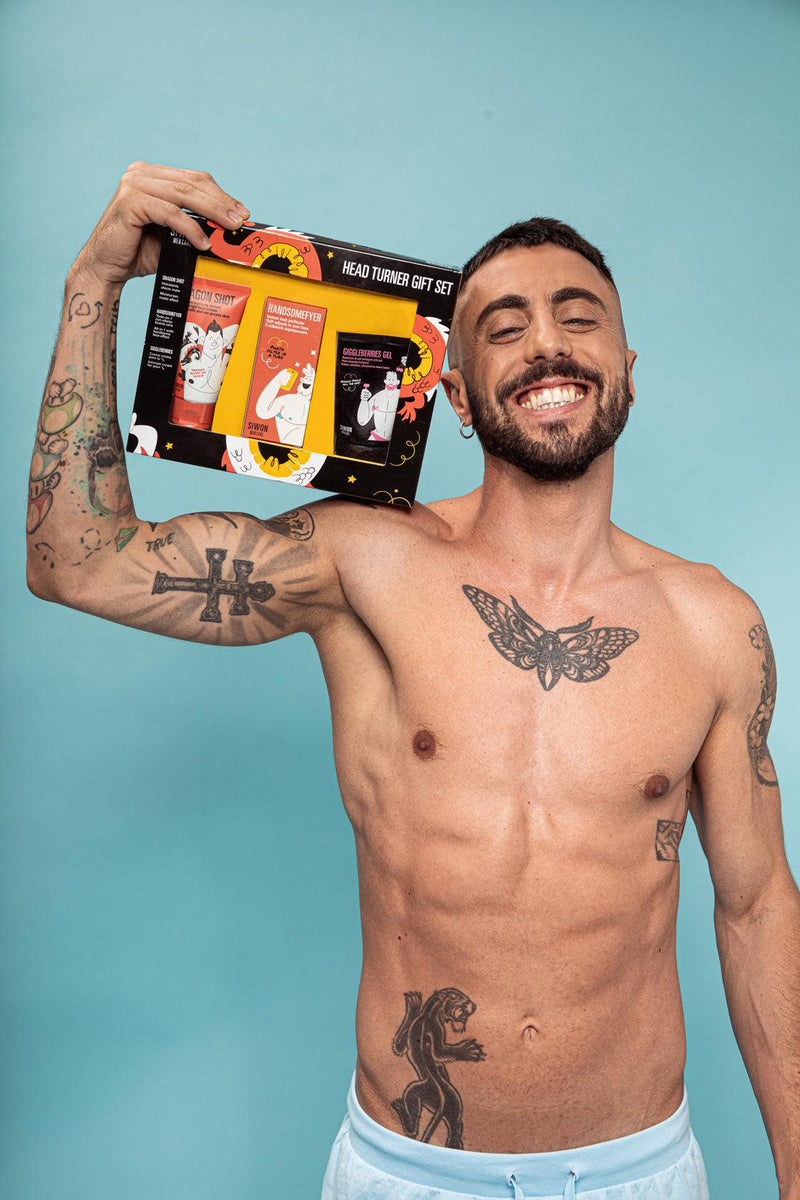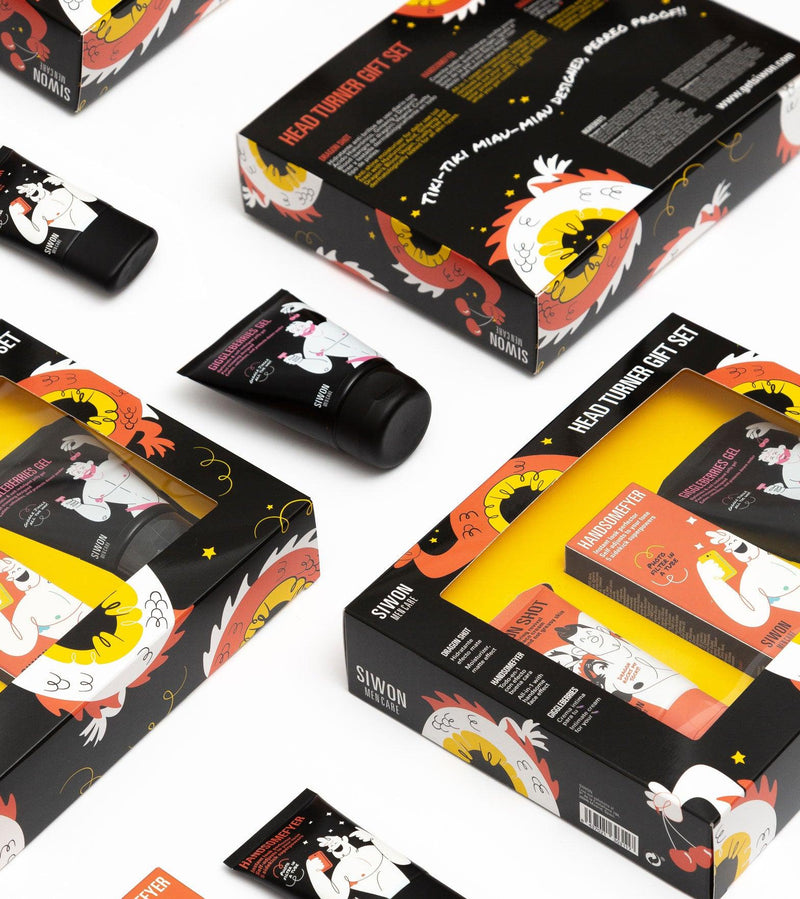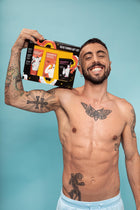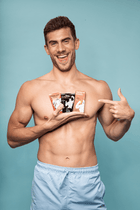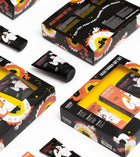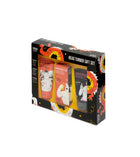 Be the responsible of the gift most praised. In the past they thanked you and hugged you ... but you could see in their looks that they preferred over something else. Not this time. There will be amazed unwrapping it, will read it and laugh to tears with the instructions, will use it and tell you after a month how much they still enjoy it. Giving away without expecting anything in return is ok. Receiving back compliments when acing ... is much better.
What will you feel
Gift recepient will have: Dragon Shot: Anti-shine moisturizer for daily use (oil free) with Hyaluronic Acid, Ginseng and Dragon's Blood. Vegan, cruelty free and dermatologically tested for all skin types
Handsomefyer: All-in-1 cream (moisturizes, hides pores, removes shines, smooths wrinkles and balances out your skin tone with added solar protection) with 'hey good lookin', what you got cookin'!' effect
Giggleberries: Moisturizing and deodorant cream post-trimming and pre-perreo. Nourishes, refreshes, calms and … soothes down under
Everything ...wrapped in a fantasy chest that looks like out of the movie 'Big Trouble in little China'
Free shipping is available if a minimum amount is spent.
Free shipping for all orders:
Spain (peninsula and Balearic Islands), Portugal (continental) with standard shipping service.
Free shipping for orders over €50:
Germany, Belgium, Slovakia, Slovenia, Spain (Canary Islands), France (mainland), Netherlands, Hungary, Lithuania, Luxembourg, Poland, Czech Republic, Austria, Denmark, Ireland, Italy (mainland) and Latvia.
Free shipping for orders over €100:
Estonia, Sweden, Croatia, Finland, Bulgaria, Italy (Sicily), Romania, Greece, France (Corsica) and Portugal (Azores and Madeira).

Deliveries in 2/3 working days:
Spain (peninsula and Balearic Islands), Portugal (continental) with express delivery service.
Deliveries in 3/5 business days:
Germany, Belgium, Slovakia, Slovenia, France, Holland, Luxembourg, Czech Republic, Austria, Denmark, Ireland, Italy, Finland, Romania.
Deliveries in 7/10 working days:
Bulgaria, Croatia, Estonia, Spain (Canary Islands), Greece, Hungary, Latvia, Lithuania, Poland, Portugal (archipelagos), Sweden.
Our couriers are DHL, UPS, CorreosExpress or Correos (depending on whether you choose standard or express shipping). Delivery times count from the moment your order leaves our warehouse. The order processing time is 24/48 working hours. Deadlines may change due to bank holidays or due to causes beyond Siwon's control. Under no circumstances do the indicated deadlines constitute a guarantee of delivery. Orders with free delivery to Spain and Portugal have a delivery period of 3 to 5 working days.
Spread the love
Quick and easy
Quick and easy to realize the order.
Sooner I received the parcel.
The products are soft and eficient
Buena Merca
La cremita de la elegancia
Schne Geschenkbox
Die Box hat bei mir leider etwas gelitten. Es war jedoch kein Problem diese zu ffnen und wieder alles so zu platzieren, dass es wieder gut aussieht. Durch das kreative Design lsst es sich auch Perfekt als Geschenk mit kleinem Twist, da die Produkte kein Standard sind. Leider ist die Beschreibung nicht auf deutsch vorhanden.
Alle Produkte haben einen angenehmen aber nicht zu dominanten Geruch. Sie ziehen gut ein und hinterlassen keine unangenehmen oder klebrigen Rckstnde auf der Haut.
Básicos para el día a día!
Me encantan especialmente la Handsomefyer normal y la Dragon Shot, se han convertido en mis cremitas esenciales para todos los días (dependiendo de si quiero algo súper ligero o ese efecto "buena cara"). He probado otras cremas con efectos similares y estas son las que mejor resultado me han dado con diferencia!
Productos de calidad superior.
Pillé el Head turner gift set por recomendación de un amigo y no puedo estar más contento con la calidad de los productos, la crema hidratante deja la piel muy suave para pieles mixtas como la mía y el HANDSOMEFYER deja un tono de piel uniforme y muy guay para el día a día o para una noche de fiesta.